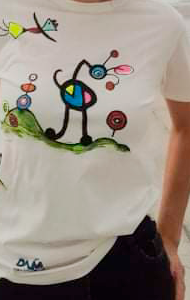 T-SHIRTS

Exclusive production

This Gallery, in collaboration with the artist Paula Moura, decided to make reinterpretations of paintings by famous authors on t-shirts. Completely hand-painted, we can now find reinterpretations of paintings by Leonid Afremov, Juan Miró, Frida Kahlo, among others. Interested parties can choose a t-shirt with the re-reading (which will always be different due to the handmade work), or send a photo of the frame they want to be re-read on the t-shirt or even on their own piece of clothing.

Re-readings of paintings by artist Paula Moura will also be carried out.

The t-shirts are 100% cotton, quality and even after being painted they can be washed in the machine. The aim of this initiative is for art to be increasingly "usable", increasingly flexible and to reach more and more people.

And this is clearly evident in the slogan chosen by the Gallery: "Wear it or Hang it on the wall! It's Art!"

With the extensive experience in textile painting of the artist Paula Moura, the gallery's director, Marlene Azevedo, guarantees total satisfaction in the acquisition of these wearable artwork.